AI Chatbot is a Software which use machine learning to converse with humans. The first-ever AI chatbot was developed in the 1960s by Joseph Weizenbaum. These software are also capable of automating various tasks, including sales and marketing, customer service, and administrative and operational tasks. AI Chatbot saves your time, money, and gives better customer satisfaction.
What is an AI chatbot?
AI Chatbot converses with humans using a machine learning technique. Natural Language Processing (NLP) algorithms, the software can understand words and phrases and thus can make appropriate responses. Additionally, the AI chatbot can segment customers, collect customer data.
List Of Most Popular AI Chatbots
1) Botsify
Botsify is a fully managed chatbot platform. With the simple and user-friendly interface, you can easily develop a welcome message and can take other steps essential for making a conversion. Botsify truly understands your business needs. It is a reason that we offer support and integration for multiple platforms. You can send a quick reply to visitors on messenger, website, etc.
Link: https://botsify.com/
2) Amplify
Amplify is a new generation conversational artificial intelligence chatbot tool that offers personalized, and persistent messaging-based experiences across a large and ever-expanding diversity of conversational surfaces.
Link:http://amplify.ai
3) HubSpot Live Chat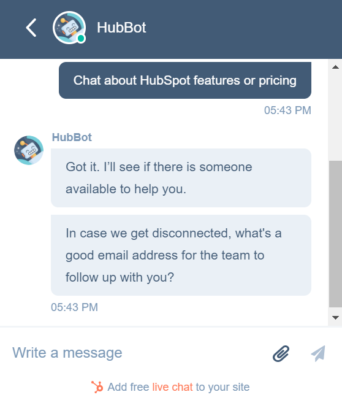 HubSpot Chatbot allows you to create a chat-flow to deliver automated responses to online visitors. Today's buyers want information – and they want it now. Chatbot chat gets automatically stored in your inbox and on the contact's timeline so your team has complete context and a crystal clear view of every interaction.
Link:https://www.hubspot.com/products/crm/live-chat#
4) Microsoft Bot Framework
Chatbot Framework Composer is an open-source for developers and multi-disciplinary teams to design and build conversational experiences with Language Understanding. Azure Bot Service enables you to build intelligent, enterprise-grade bots.
Link:https://dev.botframework.com/
5) Drift
Drift are implemented on websites to qualify leads without forms. Drift ask questions and create leads in your CRM (Salesforce, HubSpot and Marketo). Drift can integrate with knowledge base tools like Zendesk, Help Scout, HelpDocs and others to surface relevant information.  You spend millions getting customers to your website. 
Link:https://www.drift.com/solutions/chatbots/
Conclusion
The Best AI Chatbots can unlock incredible efficiency, but you need to select the right AI Chatbot. Therefore, as an increasing number of companies claim to have sophisticated AI platforms, not all AI chatbots are created equal.